PROGRAMS
DREAM MUSIC
PUPPETRY
One of few programs in the country to grow and commission contemporary, adult puppet works, Dream Music provides performance opportunities to puppet artists, and encourages multidisciplinary collaboration to develop new puppetry techniques. This program was inaugurated with the premiere of Basil Twist's OBIE-award winning Symphonie Fantastique in 1998. Under the artistic direction of Twist, and produced by HERE co-founder Barbara Busackino, the Dream Music aesthetic is geared toward puppet works that feature live music as a collaborative element.
Puppetry is the original multi-disciplinary art form therefore Dream Music artists if they so choose, have a place in the HARP program to develop their work alongside artists of other disciplines. Dream Music curates regular Puppetry Parlors to showcase excerpts from developing works both from within Dream Music and the puppetry community at large. Each year, Dream Music commissions new full-length puppet works; develops new puppet works by emerging puppet artists through Puppetry Parlors and at CULTUREMART; provides educational outreach through its partnership commissions for the legendary Village Halloween Parade; and offers national and international touring/presenting opportunities. Touring commissions include Lake Simons' What's Inside the Egg?, Kevin Augustine's Animal, Erin Orr's Savage Nursery, and Erik Sanko's The Fortune Teller.
The program is principally centered around the intimate Dorothy B. Williams Theatre, specifically configured for puppet works. Puppetry is a unique art form which takes many roots, and so our methods for crafting the program change with each artist who passes through our doors. Displayed outside of the Dorothy B. Williams Theatre is the Griff Williams Marionette Collection.
---
Past Dream Music Puppetry Productions: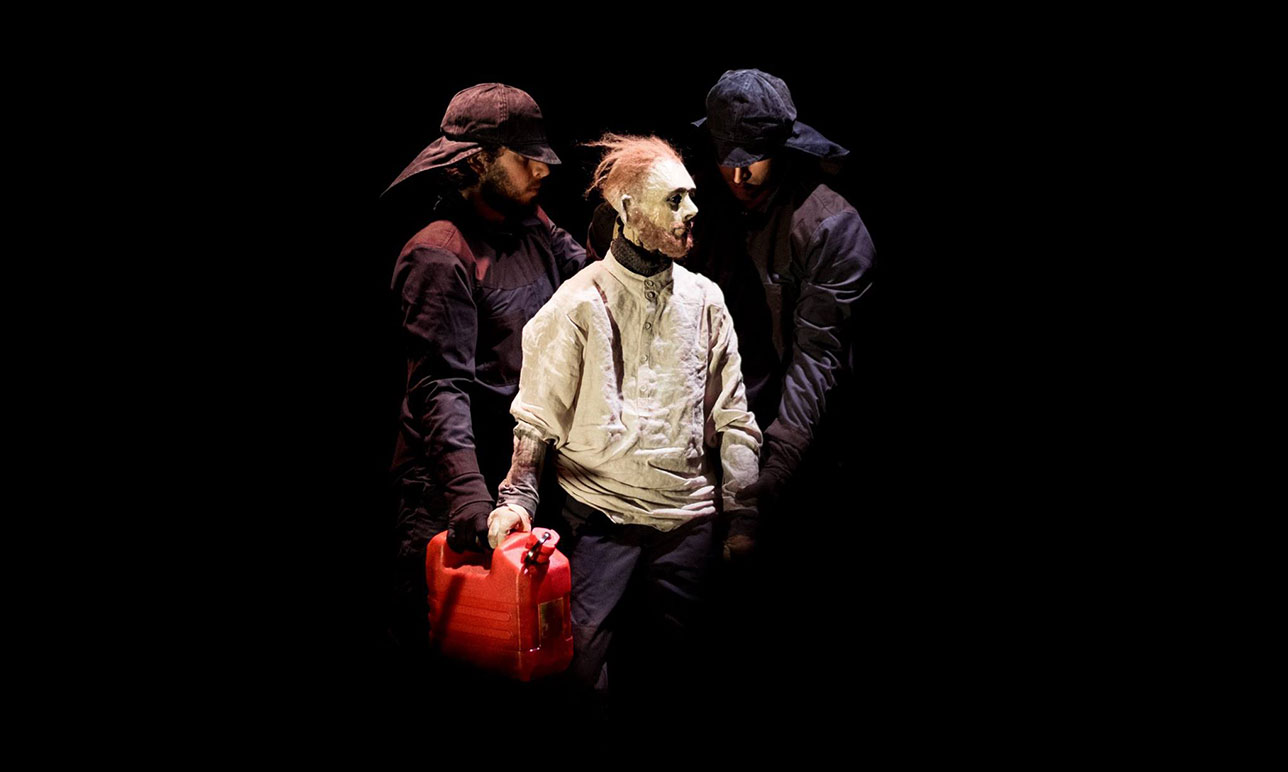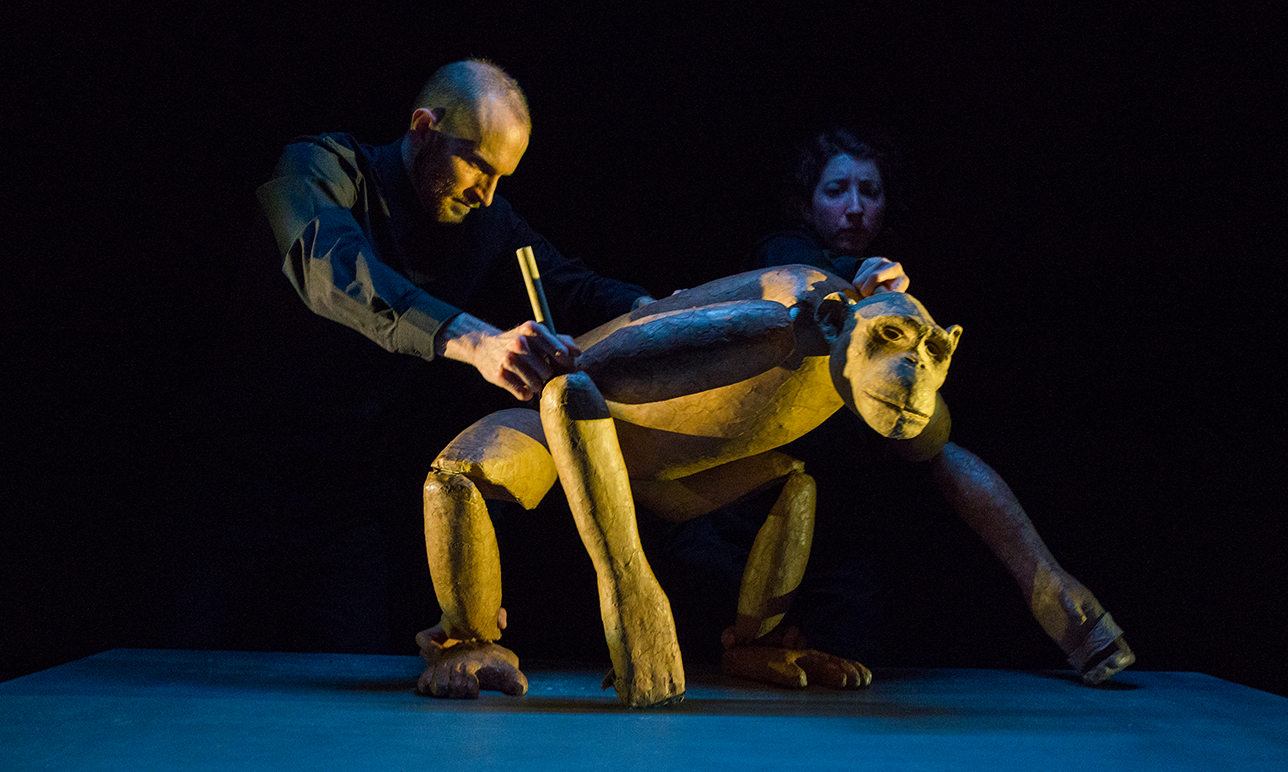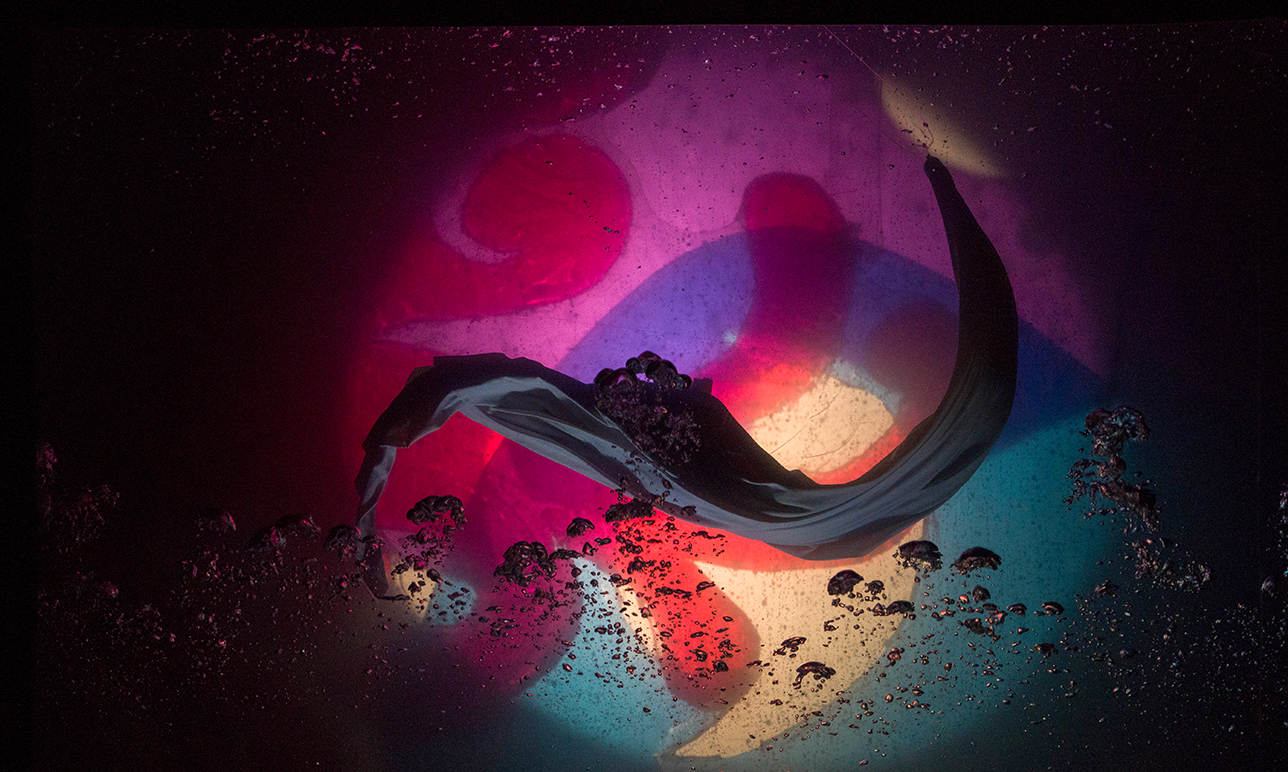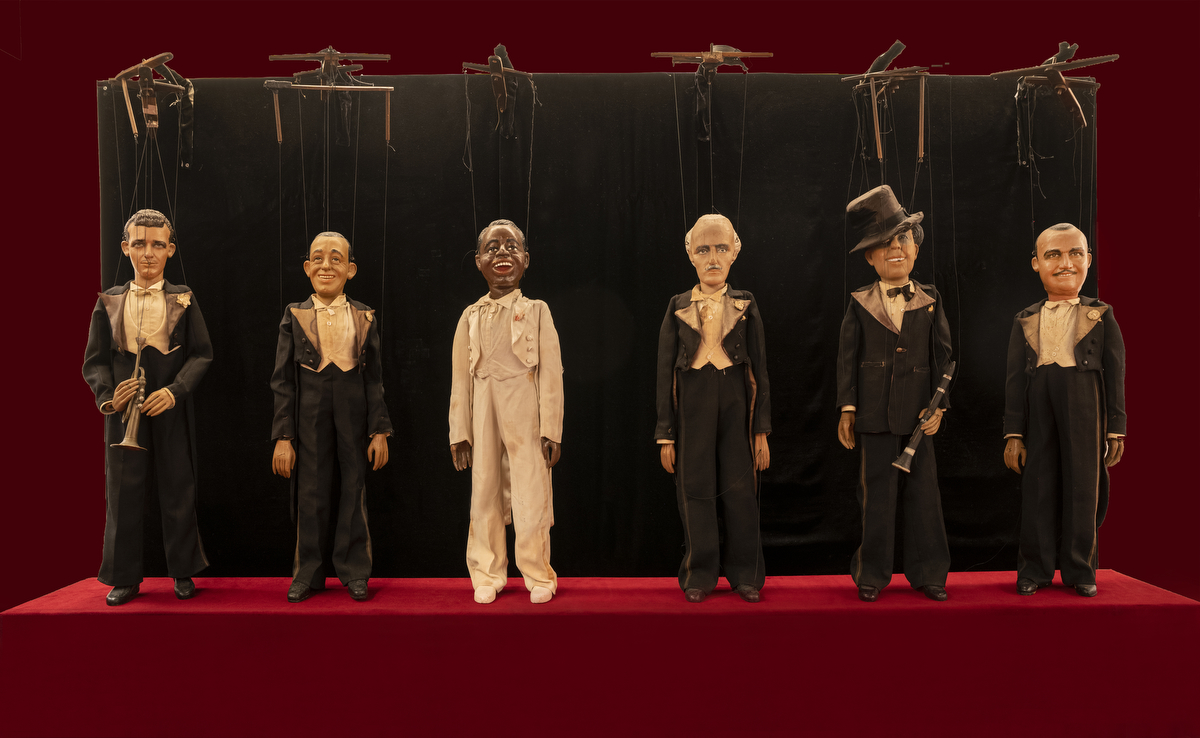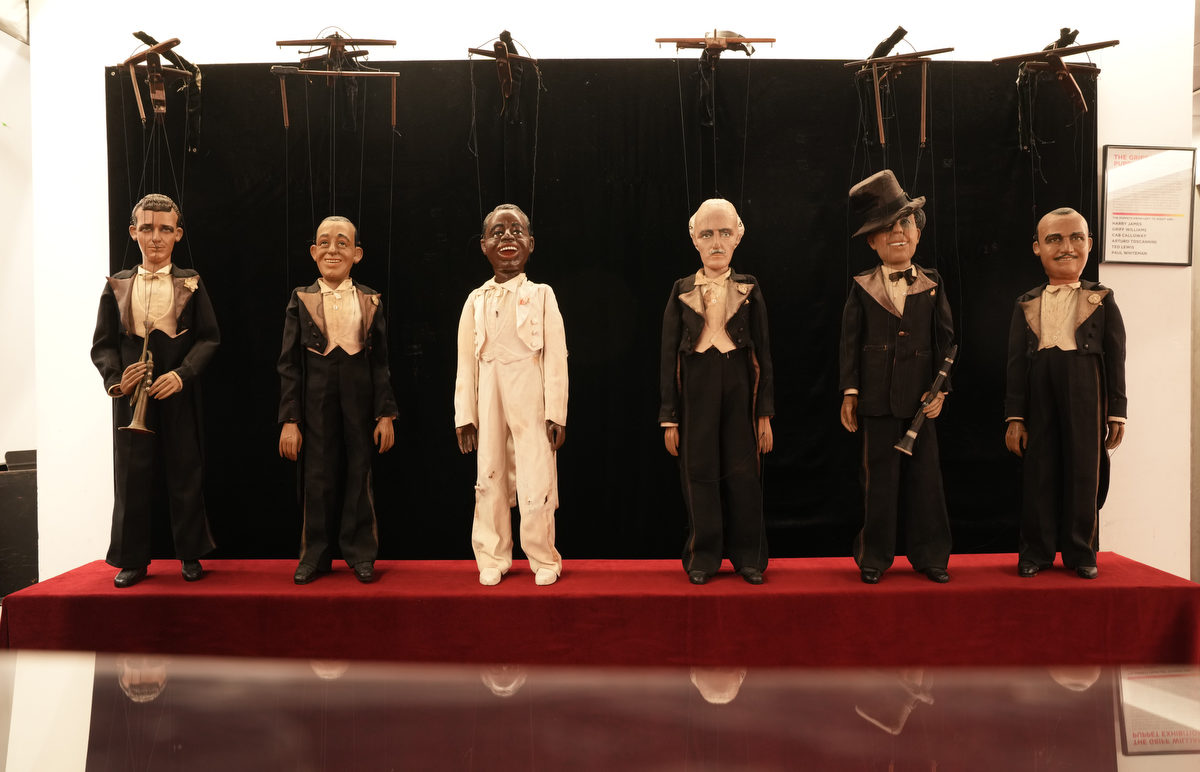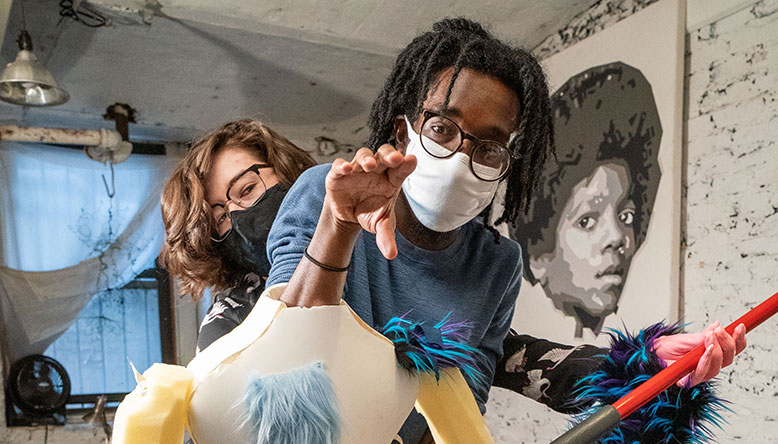 For this residency, Tau has chosen a design that he's been developing since early 2019- a large, full-body, bass playing character named Danko (named after Rick Danko). This puppet, built by Toria Sterling, is one of three musician characters that Tau hopes to further develop in the future. The other two, Lido (guitarist) and Shoop (drummer) haven't been built yet but for now, Danko will be enough to demonstrate the style of puppetry that Tau has been eager to explore- large scale, complex puppets with specific points of articulation throughout the body. Danko's most prominent articulation points are his pelvis and legs. With this project, Tau hopes to sharpen his sense of specificity with regards to his puppeteering style as well as that of his assist, Sebastiano Ricci who performs Danko's arms. To make the performance look good, it will require careful planning, rehearsal and collaboration of the minds of the two puppeteers, dressed in all black and performing in front of a black background so Danko and his bass are all the audience can see.
Tau Bennett is a puppeteer from Brooklyn, New York, who deals primarily in TV and video but occasionally participates in theater whenever the opportunity arises. Tau's career started at a young age. He's been working as a puppeteer on "Sesame Street" since 2016. He also performed in a tabletop puppetry piece, entitled "Ruby and Charlie", directed by Jessica Simon for her O'Neill residency in September of 2018. In 2019, he was involved in Spencer Lott's "9000 Paper Balloons", another live theater show where Tau first became acquainted with HERE. Later that year, he was hired on the Apple TV series, "Helpsters". Throughout his career, Tau has gathered and tries to retain as many lessons as he can from the projects he's worked on so he can apply them to his own work, some of which can be found on YouTube under the title "Cold Sober", featuring surreal puppet characters that he's been developing since he was 10 years old. His latest creation is Danko- a large, bass-playing puppet which he designed a number of years ago and will finally have a chance to use, thanks to this residency.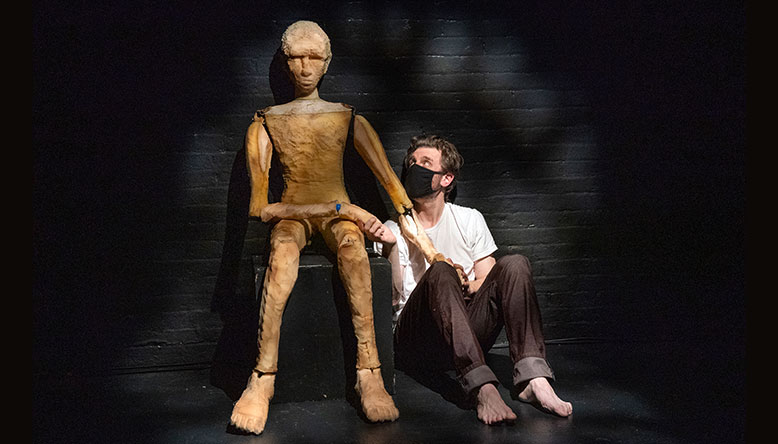 Animist
By Andy Gaukel
Performed by Sean Meehan
Lighting Design by Ayumu Poe Saegusa
Puppetry Design by Andy Gaukel and Annette Julien
In Animist, a solo performer engages with a life-sized puppet to explore the stress of self-isolation, health, addiction and the profound feelings of loss many of us are experiencing during the COVID-19 pandemic. The piece is wordless, and, with the exception of a wood box, puppet, and performer, takes place entirely on a bare stage defined by patterns of light reminiscent of broken windows.
Entering the stage as if breaking into a locked room, the performer finds the puppet, a lifeless, featureless version of themselves, resting headless in an open box. The performer approaches the puppet and attempts to resurrect it; first re-attaching the head, then inciting the puppet to respond. The performer and puppet's bodies entwine, then repel each other, as the choreographed sequence represents both two separate entities at odds with one another and the dualistic struggle of the self. Despite the puppeteer's attempts to provoke life and movement from this inanimate object, the puppet remains lifeless to the end.
The performer highlights and even removes several portions of the puppet's body, in order to closely examine them and their contents. For example, the performer detaches the puppet's head and peers inside, as a large animation of a brain MRI is projected across them, and the backstage wall.  At another point, the performer searches for a pulse within the puppet's chest, and then manipulates its body as if coaxing it to take a breath. Their efforts pay off as a glowing, beating, human heart is projected onto the chest.
Andy Gaukel is a Hudson Valley based puppetry artist and educator. His puppetry credits include the world premier of Paula Vogel's The Long Christmas Ride Home and Basil Twist's Symphonie Fantastique (2004, 2012 and 2018). His original works, Schweinehund (2015) and Calm Blue Sky (2019), premiered at the Festival Mondial des Théâtres de Marionnettes in Charleville-Mézières, France, and have since been presented throughout the world including Le Mouffetard, part of the 2017 Biennale internationale des arts de la marionnette (Paris, France); Casteliers (Montreal); and the Chicago International Puppet Theatre Festival, among others. In 2020, Andy helped create the puppetry for Oregon Shakespeare Festival's word premiere of Karen Zacarías' play, The Copper Children.
Good morning lonely people is a piece in development that uses puppetry and live original music to conjure, manifest, and then examine the paradox of universal loneliness. Two performers arrive onstage, each bringing their own set list of solitude songs. With help from each other, their instruments, and a sentient mountain of fabric, each discovers that they are not alone. A heartfelt investigation of independence and community, resistance and need, this experiment in songwriting uses puppetry and sound to score the memories that are foundational to our sense of individuality. The piece is designed to expand, shift, and be revised for each iteration with new collaborators.
Sara Outing is a puppeteer, fabricator, musician, and theatre designer from Chapel Hill, NC, where she apprenticed in construction and performance with Paperhand Puppet Intervention. Now working in Philadelphia, her puppet construction and design work has included The Good Person of Szechuan (U Penn), Gregor (InVersion Theatre, NYC) and Children of Eden (Wolf Performing Arts Center), as well as shadow work in Medea (Hedgerow Theatre), Potts (The Greenfield Collective), and #PhillySavesEarth (Marty Pottenger), and Iphigenia (U Penn Theatre Arts). Her most recent puppetry project, DOORS, was funded and developed in virtual residency with the Black Puppeteer Empowerment Grant cohort through Puppet Showplace Theatre. Sara is an alumna of the University of Pennsylvania, where she also serves as an advisor and coordinator for the student performing arts. www.saraouting.com
Sorry About The Weather
By Lake Simons
Music by Rima Fand
Additional Choreography by Nami Yamamoto
A solo, a duet and a trio with puppets and objects. The clarity in my mom's mind is like the weather: cloudy, foggy, a chance of thunderstorms and sometimes it is a sunny day. I enter her thoughts through deep imagination hoping to lift her spirits in her final days. Her shell-like body, curled inwards as she waits in her bed.
Lake Simons is a Brooklyn based director, designer, puppeteer, physical performer, and a maker of things. She has collaborated with many artists creating theatre productions from the ground up. She is the Managing Artistic Director of the Hip Pocket Theatre, Co-Director of Puppet Lab at St. Ann's Warehouse, and teaches puppetry at Sarah Lawrence College.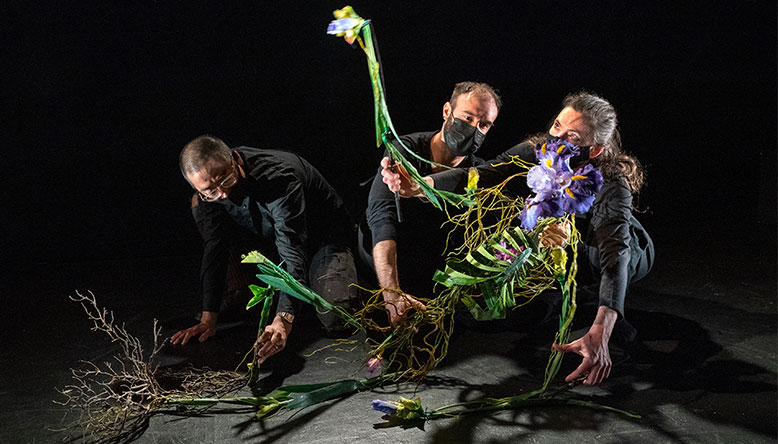 Walking Iris
By Christopher Williams and Patti Bradshaw
Lighting Design by Ayumu "Poe" Saegusa
Walking Iris is an absurdist puppet/dance work inspired by botanical wonders such as the walking iris (Neomarica gracilis), winged immortals including the Greek goddess Iris (personification of the rainbow), Harpies (sisters of Iris), and the Boreads (wind brothers), as well as the mysterious "Ladies in Blue" fresco recreated from fragments found in the Minoan palace of Knossos on the island of Crete. Set to stylized "re-imaginings" of what a few extant ancient Greek musical fragments may have sounded like recorded by Gregorio Paniagua (along with live foley sounds and effects), the piece, will ultimately unfold as a dreamlike series of vignettes featuring several forms of direct manipulation puppetry, prosthetic costume, dance, and video. The overall work aims to present a meditation on the world of the unseen, the seemingly fleeting nature of time, and the natural cycles of plant life, seasons, and cultures that, like everything, come into being, abide for a time, dissolve, and begin again.
Christopher Williams is a "Bessie" award-winning choreographer, dancer, and puppet artist working in New York City and abroad since 1999. His works have been presented internationally in France, England, Italy, Colombia, Holland, Spain, Russia, and Malawi as well as in many New York City venues including Lincoln Center, City Center, Dance Theater Workshop, Danspace Project, PS 122, and La Mama. His puppet works have been presented by the Jim Henson International Festival of Puppet Theater, St. Ann's Puppet Lab and Labapalooza Festival, Dixon Place, and his first evening-length puppet work, Virgo Genitrix, was commissioned by the Dream Music Puppetry Program at HERE Arts Center. He holds degrees from Sarah Lawrence College and the École Internationale de Théâtre Jacques Lecoq in Paris, and has since performed for puppet artists Basil Twist and Dan Hurlin, as well as choreographers Tere O'Connor and Douglas Dunn among others.