HARP, co-presented with La MaMa
Cannabis! A Viper Vaudeville
July 14-July 31
A theatrical concert exploring the history of cannabis using music, dance, and spoken word grounded in the Hip Hop tradition of the remix and mashup. Inspired by Martin A. Lee's book Smoke Signals: A Social History of Marijuana, CANNABIS! A VIPER VAUDEVILLE weaves the music of icons such as Bob Marley with the stories of grassroots activists Dennis Peron and Brownie Mary with personal narratives. From Congo Square to the speakeasies of the jazz age, from the revolutionary happenings of the '60s to the AIDS activism of the San Francisco buyers club, our time traveling tale invokes a tradition of rebel spaces — sites of music, healing, and resistance.
The team includes Grace Galu as composer/music director/creator/performer, Baba Israel as writer/performer/co-director, Talvin Wilks as dramaturg/co-director, and Nic Benacerraf as environment designer/associate director, in collaboration with hip hop and spoken word collective, Soul Inscribed (Robert Knowles, Sean Nowell, Juan Carlos Polo, Osei Kweku, and Jonathan "Duv"  Zaragoza), and an ensemble of dancers that includes members of the revolutionary Urban Bush Women – Courtney Cook, Chanon Judson and Mame Diarra (Samantha) Speis, dance sensation Tatiana Barber, and mesmerizing street dancer Twice Light.
Cannabis! A Viper Vaudeville was originally planned to open its run during HERE and BMP's Prototype Festival on January 7, 2022. Due to COVID, the 2022 Festival and our first performance was postponed. We are thrilled to be sharing this special work with you today!
This production contains strobe lights and haze.
Cannabis! A Viper Vaudeville is sponsored by the Cannabis Education and Research Institute (CERI), Dr. Bronner's, and The Living Theatre.
Additional support for CANNABIS! A VIPER VAUDEVILLE is provided by Dr. Suzanne Miller, the MAP Fund; The W Foundation; the New England Foundation for the Arts; and made possible by the New York State Council on the Arts with the support of the Office of the Governor and the New York State Legislature.
---
Special Guests
Panels
Artist Talkback: A Look Into the Making of Cannabis! A Viper Vaudeville with the Creators
July 17, Following the 4PM performance
Featuring
Kristin Marting (moderator) – HERE Founding Artistic Director
Baba Israel – Librettist, Creator, Co-Director, and Performer
Grace Galu – Composer, Performer and Music Director
Talvin Wilks – Dramaturg, Co-Director
Cannabis: The Unique History and Evolution of One of the Most Widely Grown Plants
July 23, 8PM
Featuring
Martin A. Lee – Author of Smoke Signals
Colleen Mairéad – Deputy Director, NYC NORML, President, TRAEHNY Partnership & Development Corp
Esther Lelievre – CEO Canna Equity Group
Cannabis: Understanding the Pharmacology and the Benefits of Conscious Consumption
David Knowlton – Chariman and CEO, Cannabis Education & Research Institute (CERI)
Sephida Artis – President | National Cannabis Party
Shellise Rogers (moderator) – NYCNorml ED
Jessica Naissant – CEO of Wake and Bake Cafe & Co-Founder of Cultivated Community Foundations
DJ 
P.U.D.G.E: July 16, 23, 30 @ 8:30PM
Cyphers
Mikal Amin: July 14, 15, 21, 22, 28, 29 @ 8:30PM
Squala Orphan: July 14, 15, 21, 22, 28, 29 @ 8:30PM
Prophet AKA Not4Prophet: July 21, 22 @ 8:30PM
Luquantumleap: July 28, 29 @ 8:30PM
Keiona "Freakquencee" Josey: July 28 @ 8:30PM
Speakers 
Tosin Ajayi: July 14, 15 @ 8:30PM
Miriam Aristy-Farer: July 16, 17 @ 4PM | July 17 @ 8:30PM
Zulai Romero: July 19-21 @ 8:30PM
Nicole Ricci: July 22,23 @ 8:30PM
Emily Marie Ramos Rodriguez: July 24 @ 4PM | July 26, 28 @ 8:30PM
Mike Zaytsev: July 27 @ 8:30PM
Brittany Carbone: July 29 @ 8:30PM
Kait Caridi: July 30 @ 8:30PM
Vaccinations
‍All staff, artists, and audiences must be fully vaccinated against Covid-19 to be at La MaMa and to attend performances.
La MaMa requires proof of complete COVID-19 vaccination by the date of attendance for admittance to the theater. As proof of vaccination, please show your CDC vaccination card, a photo of your CDC vaccination card, or your New York Excelsior Pass. The name on your vaccination card must match your ID.
No one will be admitted without proof of vaccination.
Face Coverings
Masks are required at all times when in the building.  N95 or KN95 masks are strongly suggested.
Other Guidelines
Audience members are encouraged to get tested before attending.
‍
‍We ask that if you are not feeling well to please not come to the show. You can email boxoffice@lamama.org to exchange your ticket.
Please exit the building immediately after the performance.  If you are waiting for someone involved with the show, please wait for them in front of the building.
Hand sanitizer stations are installed throughout the building for your convenience.
La MaMa's performances will be presented in accordance with applicablepublic health requirements as of the date of the performance.
La MaMa's full Health & Safety Policy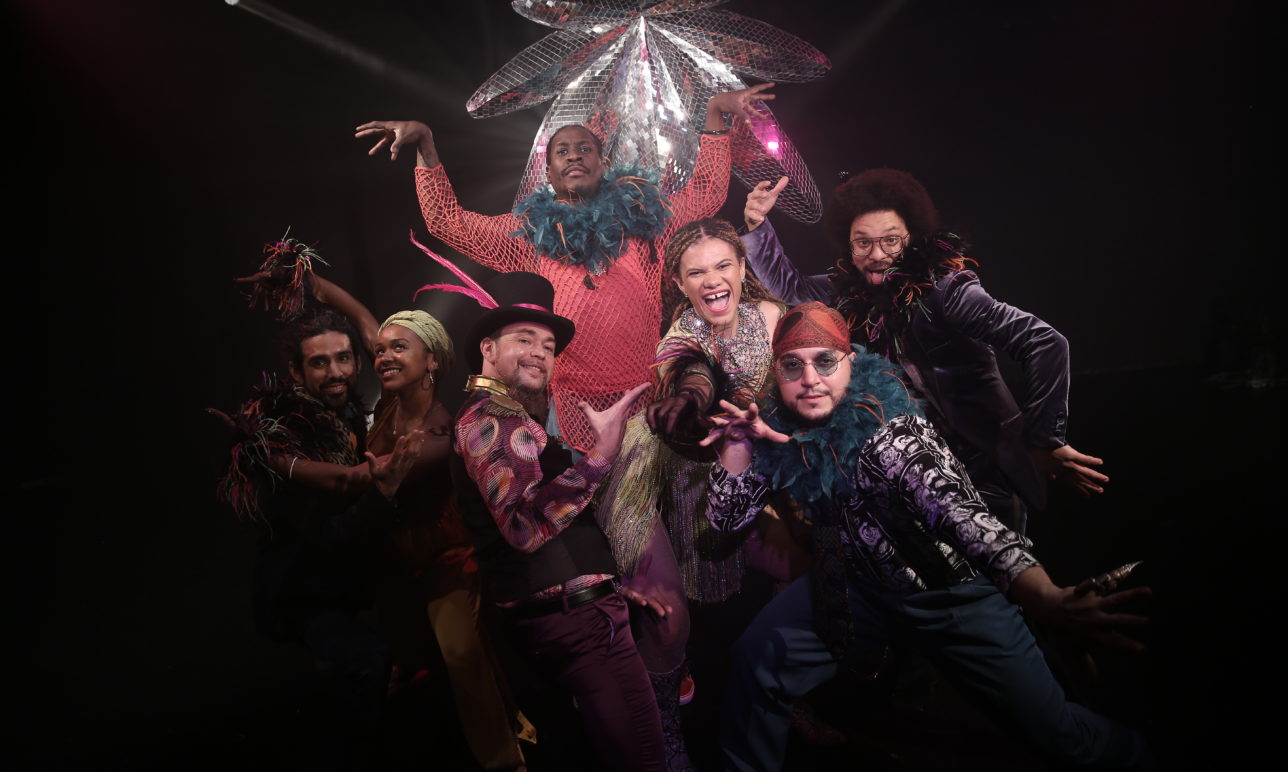 Ellen Stewart Theatre
La MaMa
66 East 4th Street
(btw Bowery & 2nd Ave)
New York, NY 10003
120 minutes with intermission
Grace Galu & Baba Israel
Grace Galu is a vocalist, actor, guitarist and composer. She combines the sounds of her Irish and Congolese heritage and her LES upbringing in a soulful and gritty twist.. Grace was featured in Buskerball, and recorded "Firelight" with Fearless Music. Her composition, "Ordinary Sentiment" was featured in the Ed Burns film, "Purple Violets'' which premiered at the Tribeca Film Festival. Grace devised The Mendelssohn Electric with Trusty Sidekick, and was cast as the lead in their production, The Gospel Electric, commissioned by the Park Avenue Armory. She is a core member of the band Soul Inscribed, and was twice selected as a cultural ambassador for the American Music Abroad program. She has been selected as a cultural ambassador for their next residency program (2022). Grace is also a recipient of the NEFA NTP grant. Soul Inscribed has recently been signed to the music label, Tokyo Dawn and just released their EP, Tune UP. Grace is an artist in residence at HERE Arts Center and the composer for Cannabis! A Viper Vaudeville. Grace voiced Wisdom in Nia Witherspoon's production, The Dark Girl Chronicles (2021 at The Shed).
---
Baba Israel is an artist, producer, educator and consultant raised in New York by parents who were core members of the Living Theatre. He co-founded Playback NYC, the first playback theatre company to integrate freestyle hip hop. His debut solo show "Boom Bap Meditations" was supported by the Ford Foundation and the Hip Hop Theatre festival. He has toured across Asia, Africa, Europe, the South Pacific, North and South America as a hip hop and theatre artist and led cultural ambassador programs internationally supported by the US State Department. His work has been featured in documentaries such as Freestlye and Hip Hop for Hope, and on MTV and BET.He was Artistic Director and CEO of Contact Theatre in Manchester, a leading venue at the intersection of youth leadership and innovative performance. He premiered his most recent multimedia performance The Spinning Wheel as a resident artist at BRIC in Brooklyn. The production was developed and toured in the UK, Holland and Norway and in America with MDC Live Arts and the University of Madison, Wisconsin. He holds an MFA in Interdisciplinary Arts from Goddard College and is the Co-Artistic Director of the Performance Project based at the University Settlement.Soul Inscribed is a hip hop, and spoken word collective who are the core band for the production. The ensemble creates an eclectic new vision of jazz, dub, and funk.