Dream Music Puppetry
Puppetopia: Deeper Closer Warmer
MAR 10-19
A new theatrical collaboration between puppeteers Poncili Creación and experimental musicians The Daxophone Consort, Deeper Closer Warmer is an ancient surgery that examines the crevices of flesh and consciousness. The operating theater is prepared for an autopsia performed with instruments of bowed wood, foam, and circuitry. Large-scale transforming foam puppets, with the shrieks, whistles, and melodic coos of an electronic orchestra, reveal a world inside the organism where empires of bacteria will fall and new organic machines will be created.
---
Poncili Creación is a performance duo based in Puerto Rico that creates foam rubber sculptures brought to life through manipulation by human bodies. These sculptures, as small as a coin or as large as a car, are tools for creating whimsical power that stains reality. In the duo's ritual-shows they attempt through a series of unorthodox methods to convince the audience that everything is possible.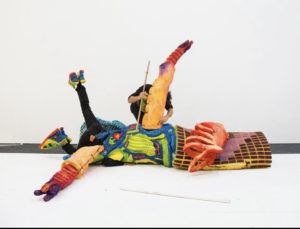 The Daxophone Consort is Daniel Fishkin, Cleek Schrey, and Ron Shalom. The daxophone is a modern instrument consisting of a thin, bowed wooden strip, whose sound ranges from delicate whistles to wild screams. Drawing on backgrounds in instrument building, theater, costume, and traditional music, the Consort creates and commissions new works and reinterprets the classical music canon from the 20th century through the middle ages. Past collaborators include Alvin Lucier, Yasunao Tone, the LeStrange Viols, Science Ficta, Gelsey Bell, and Judith Berkson.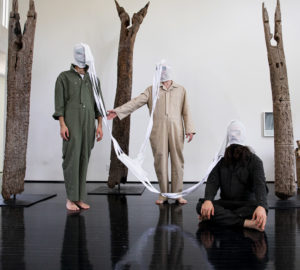 ---
Updated: March 8, 2023
HERE is now a mask-optional space. All patrons attending HERE performances and events will no longer be required to wear masks.
We ask all audience members to please stay home if they have a sore throat, are feeling sick in any other way, or have been recently exposed to COVID-19, and to please contact the box office for refunds or exchanges.
All of our performers, technicians, and staff members are required to be fully vaccinated and masked unless they are onstage performing. Additionally, they are participating in an active testing regimen to keep everyone as safe as possible.
HERE reserves the right to revise protocols as the rate of transmission changes and in light of new scientific data that may present itself.
MAR 10,11,17,18 @8:30PM
MAR 15,16 @8:30PM
MAR 17, 18 @11PM
MAR 12,19 4PM
Approx. 60 mins
10 tickets for $10 are available for every performance.
Buy three shows, get one FREE! The Puppetopia Package includes a ticket to Deeper Closer Warmer, Mother Mold & Tin Iso and the Dawn, The Emotions, and Offal Unstory. Click here to purchase the package.
For tickets to Deeper Closer Warmer, click "Buy Tickets" below: